Most personal finance statistics prove we don't manage our money well. Consumer debt continues to skyrocket. Retirement savings is in the toilet. Financially literacy has taken a back seat in school.
Is there any good news out there?
These Personal Finance statistics will surprise you
1. 18% of high-income earners live paycheck to paycheck
Believe it or not, a high salary doesn't necessarily mean you're living well. In fact, almost 1 in 5 workers who earn more than $100,000 admit to living paycheck-to-paycheck.
Source: Willis Tower Watson
2. Almost 1/3rd of Americans don't save any of their income
Here's a scary thought: 29.2% of Americans don't save any of their income. This will make for a very, very short retirement.
Source: CreditDonkey
3. Nearly 55% of adults are financially literate
According to one worldwide study of personal finance statistics, about 55% of adults are considered financially literate in the United States, Canada, France, Germany, Italy, Japan and the United Kingdom. Financially literacy includes access to finance-related education in grade school, average debt among citizens and small business successes.
Source: Standard & Poor
4. Less than 20% of U.S. students are required to take finance courses in school
Only about 17% of students were required to take at least one semester of personal finance in high school. The study also noted that almost 70% of schools offered a finance-related elective.
Source: Council for Economic Education
5. 69% of Americans have less than $1,000 in savings
Nearly seven in 10 Americans have less than $1,000 in savings, leaving them vulnerable to all kinds of debt. "It's puzzling to me that if the economy is doing so well and that we're so close to full employment, that consumer confidence is up … that we haven't seen the numbers move much in people's ability to save," said Bruce McClary, spokesman for the National Foundation for Credit Counseling, which conducts an annual financial literacy survey.
Source: GoBankingRates
6. Four in 10 Americans would cover a $1,000 emergency with savings
41% of those surveyed said they would cover a $1,000 emergency with money in a savings account. 16% would finance the emergency with a credit card while 14% would try to borrow the money from friends or family.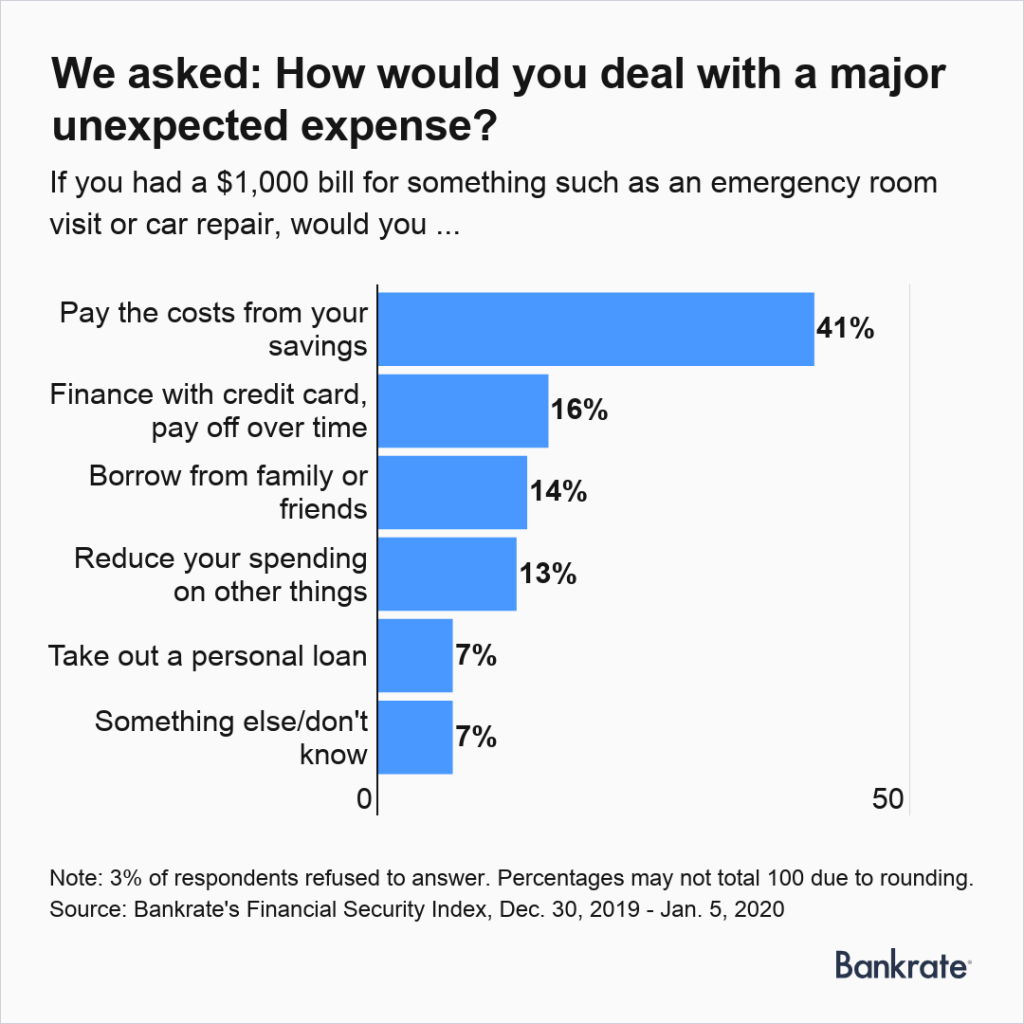 Source: Bankrate
7. In 2019, the average American household had a $41,700 bank account balance
This number is down 3% from 2016. The median bank account balance for American households is only $5,300 (in 2019).
Source: Magnify Money
8. In 4 years, American consumer debt has doubled to $143 trillion
American consumer debt has nearly doubled in the 4-year span between 2015 and 2019. It grew from $72 billion in Q1 2015 to a whopping $143 billion in Q1 2019.
Source: TransUnion
9. Credit card loans "only" amounted to $820 in Q4 2020
In 2020's 4th quarter, credit card loans were $820 billion, representing a reduction in consumer spending due to the Covid-19 pandemic (the first drop in seven years). A year earlier, credit card loans topped out at $930 billion.
Related: Personal finance statistics also find that more than 191 million Americans hold credit cards, and the average holder has 2.7 cards. The average household credit card debt is $5,315.
Source: Debt.org
10. Student loans continue to hammer Americans ($1.54 trillion).
Collectively, Americans owed more than $1.5 trillion in student loan debt in 2020, up by $27 billion compared with Q4 2019. More than 10% of student debt was delinquent by at least 90 days.
Source: Center for Microeconomic Data
11. One in five Americans have no retirement savings
21% of Americans have nothing saved for retirement. And, nearly 75% of Americans believe that it's not likely that Social Security will be available when they retire. If true, that makes saving for retirement that much more important.
Source: Northwestern Mutual
12. Over half of American adults invested in the market in 2020
Among U.S. adults, 55% invested in the stock market during 2020. This number has remained fairly steady over the years after peaking in 2007 at 65%.
Source: Statista
13. Average 401(k) contributions only half of limit
Though the U.S. government allowed qualified workers to contribute $19,000 into their company-sponsored 401(k) retirement accounts, the average contribution for the year was only $8,788, less than half of the allowed amount.
Source: Schwab
14. Only about a quarter of Americans have a financial plan
About one in four Americans (25%) have some kind of written financial plan. Moreover, Gallup found that only about 30% have a long-term financial plan, including savings and investing plans for retirement.
Source: Schwab
15. 42% said their financial situation worsened due to the pandemic
More than half (51%) said their household income decreased overall. 30% reported an unexpected large expense, and almost 28% said household expenses increased overall.
Source: NerdWallet
16. A whopping 77 million Americans have debt in collections
35% of Americans with a credit file have a report of debt in collections, not including mortgages. Most collection debts include credit cards, medical bills, or utility payments that are at least 180 days late.
Source: Urban Institute
17. Women hold 2/3rds of all student loan debt
About 66% of all student loan debts are shouldered by women. The average student loan debt among women is $31,276.
Source: AAUW
18. Michigan is the most financially literate state
In 2020, a study found Michigan to be the most financially literate. Would you like to guess what the least financially literate state was? West Virginia.
Source: Mint
19. Over six in 10 workers would rather take a pay cut than work in an office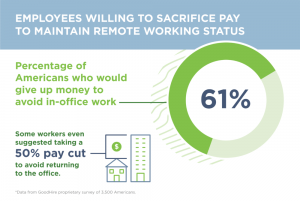 As we previously reported, 61% of workers would rather take a cut in their pay than return to an office full-time. And, almost 70% would choose remote working options over returning to the office. Nearly half would quit their jobs or find a remote work position if they were asked to return to the office permanently.
Source: GoodHire
20. 10% of Americans believe they will never financially recover from Covid-19
Though half of all working adults believe that the economic impact of Covid-19 will make it tougher to reach retirement, 10% believe that they will never recover according to personal finance statistics.
Source: Pew Research Center
21. About 40% of upper-income adults said their financial situation has improved since Covid-19
Just about four in 10 upper-income adults in the United States reported an improvement in their financial situation in the last year. Only 11% of upper-income adults said their finances are worse.
Source: Pew Research Center
22. About 20% of credit reports have errors in them
You might want to check your credit report, as one out of five credit reports contains an error.
Source: CNN Money
If you spend more than you think you should, then you might want to keep your social media usage in check. One survey found that close to 60% of Millennials spent more than expected due to material they saw on social media.
Source: Forbes
How many of these personal finance statistics surprised you?