A brand new study found that more than 60% of workers are prepared to take a pay cut in order to work from home permanently.
GoodHire surveyed 3,500 American workers and found that the vast majority preferred more flexible working arrangements over more pay, especially the ability to work remotely.
Remote work allows employees a more flexible working arrangement. Working from home means less time sitting in traffic and more time doing the job – or even working on side hustles.
Almost seven in 10 would choose remote working options over returning to the office. Nearly half would quit their jobs, or find a remote work position, if they were asked to return to the office.
The study also found that most workers (84%) who are willing to return to the office want Covid-19 safety protocols in place before agreeing to restart their office commutes.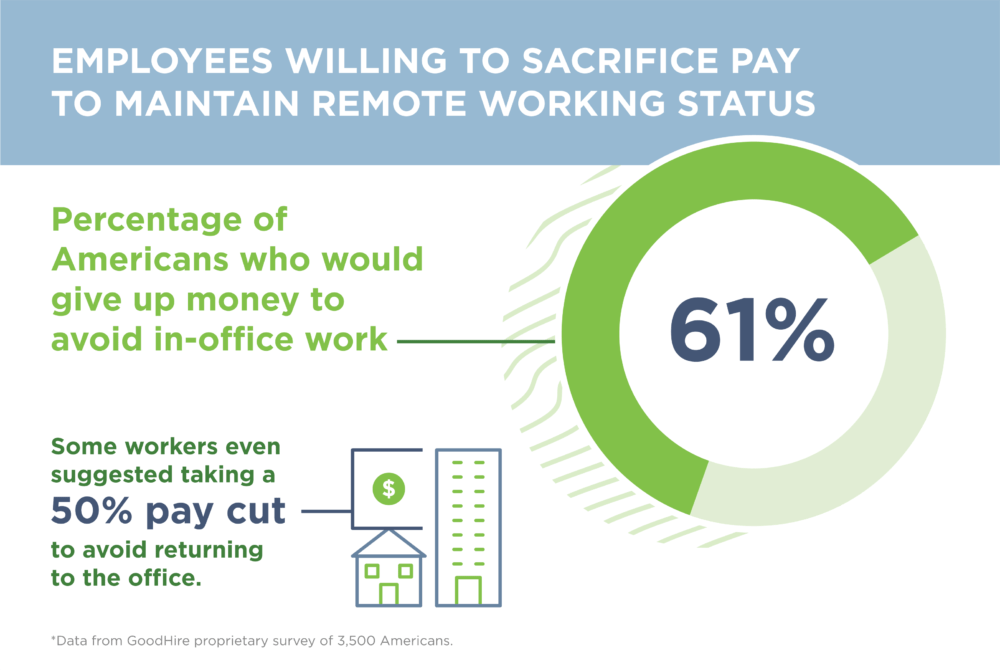 Other findings of note within the study: 3/4ths of workers require remote working options to remain in their current positions. 60% of workers would move to another city in order to work from home.
"Americans across the nation were forced to flee from lavish company offices filled with snacks, nap pods, free lunches, massages, happy hours, and onsite health services," wrote GoodHire.
Even with these office perks, most of those surveyed are ready and willing to move companies, cities or even take a cut in salary for flexible work options.
Many Companies are Switching to Work From Home
After 2020's forced work-from-home experiment that largely went well, more and more high-profile companies are beginning to offer long-term (or permanent) remote work options for their staff.
After testing the waters with remote working options for Twitter employees, Twitter CEO Jack Dorsey extended the work benefit "forever". Though, Dorsey kept Twitter's physical doors open for those who prefer to work from an office.
Adobe, the software company that makes audio/visual applications like Photoshop, Lightroom and Premiere, now allows staff to work 50% of the time at home.
Atlassian, Coinbase, Shopify, Slack, Square, Upwork and Zillow are among scores of companies who no longer require their staff to work permanently from its corporate offices.
Flexible work options are so prevalent that most job seekers would no longer consider working for a company without the ability to work from home. In fact, one in three surveyed said that they would never consider applying for a job that required a presence in the office 5 days a week.
Companies are wise to adjust to the changing demands of its workforce.
While in-office work still makes sense for many companies and positions, the overwhelming evidence suggests that employees are happier, feel more valued and are generally more productive when given the option to work from home. Affordable laptop computers and fast Internet connections make staying connected from home easier than ever.
Work from home may even improve employee retention, a repetitive cost that burdens organizations.