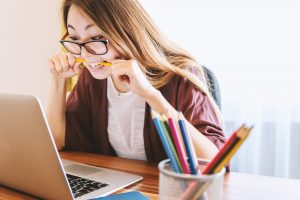 The cost of college is absurd. But, what if I told you that there are three easy ways to make college cheaper?
It doesn't take much looking around at the cost of college these days to quickly realize how expensive these college degrees have become, even though they still hold wealth-building potential.
After all, the Bureau of Labor Statistics found that those with a college degree earn nearly 80% more than those without a college degree. Clearly, degrees still hold a lot of value for most people and, in general, help us to boost the money-making potential in our careers.
Still, college is very expensive.
Let's start by considering some fascinating money statistics from Value Penguin:
Average in-state cost: $25,290 (yearly)
Average out-of-state cost: $40,940 (yearly)
Average private university cost: $50,900 (yearly)
​That's a good chunk of change, especially after we realize that the average student loan balance in the United States is over $32,000.
So, what's the best way to make college cheaper?
Believe it or not, there's a strategy that works. Even if you're already out of college, you (or a friend or family member) might have a child who is preparing for college.
Do them a favor and forward this blog post over to them.
How to make college cheaper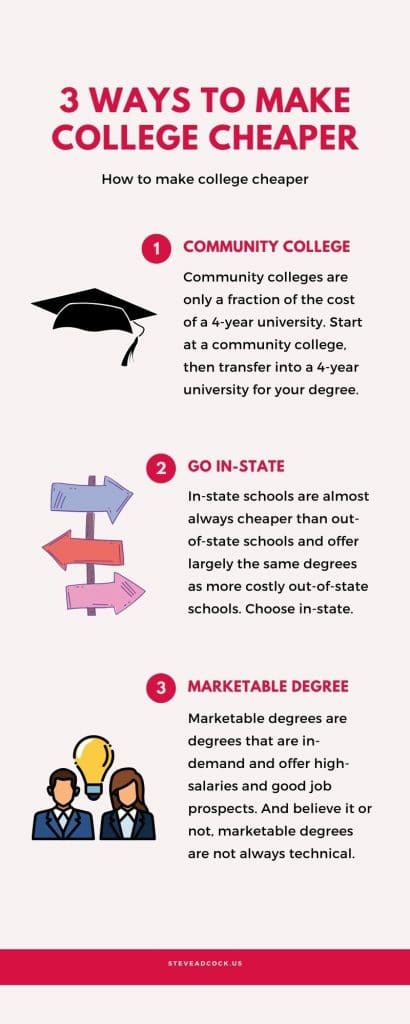 Go to a community college: The average yearly cost to attend a community college is only $4,800 for an in-state school, which is a mere fraction of the cost of a traditional 4-year university.
Instead of going straight to the 4-year school, start at a community college for two years, then jump over to a 4-year school to finish out your degree.
Many community colleges work directly with local universities to transfer community college credits over to the university. Instant savings for the same degree makes college cheaper.
Go in-state: Believe it or not, those out-of-state schools aren't necessarily "better" just because they are out of state. In-state makes college cheaper.
After all, understand that young people from your own neighboring states might believe that your local in-state college is better because it is out-of-state for them, while you believe the same about their in-state school (it's out of state for you).
You will save 10s of thousands of dollars by going to an accredited in-state university for the same (or similar) degree. This theory applies to private schools as well. Don't make yourself believe that you need that high-priced education.
Most of us only need a regular 4-year degree from a traditional in-state public university to set us up for a successful money-making career.
Get a marketable degree: This tip won't necessarily make college cheaper, but it may drastically shorten the time that it'll take to earn back your money. Marketable degrees are degrees that companies are actively looking for and have high average salaries and good job prospects.
"But Steve, I'm not a computer person!"
Believe it or not, not all marketable degrees are technical.
A few examples of non-technical marketable degrees include:
Marketing
Nursing
Economics
Physical therapy
Finance
Check out this Kiplinger article for more examples of high-paying degrees in in-demand fields with good job prospects. They studied data for more than 100 popular degree programs across the country.
"We looked for courses of study that tend to lead to fat paychecks—both right out of school and further along your career path," Kiplinger wrote. "We also sought out majors that are in high demand based on recent online job postings as well as long-term growth expectations for related occupations."
College is expensive, but it doesn't need to be a financial burden for years after graduation. ​
By starting off college in a community college before transferring into a 4-year university, going to an in-state school and choosing an in-demand field, you are making college cheaper and more lucrative.
Use these tips to make college cheaper and start making money in your high-paying, in-demand career.